Upper Chakra Mala - LAST ONE
00019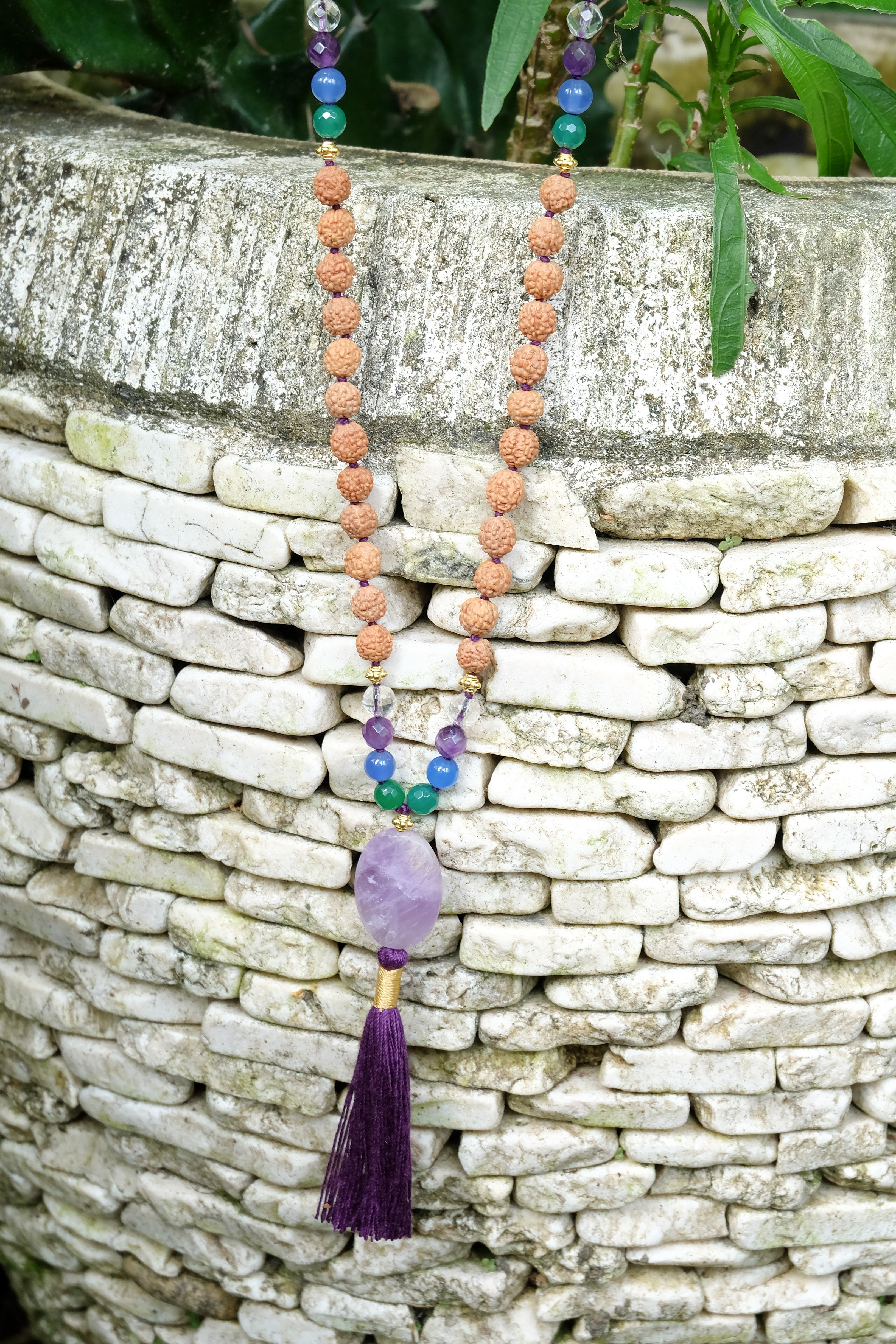 Upper Chakra Mala Set $110.50 SOLD OUT
Free USPS Shipping
Bring balance and unlock the power of the Upper Chakras (4 energy centers) with this beautiful mala and bracelet set.
This Upper Chakra Mala set will help you connect, heal and awaken your Anahata (Heart), Vishudda (Throat) and Ajna (Third Eye Center) and Sahasrana (Crown) chakras. Use it during mediation, japa mala or with your favorite outfit.
Each stone works beautifully to bring forward and enhance the positive qualities of each chakra center. For added boost you can pair your mala with an essential oil (I will give you suggestions according to your needs) to unlock the limitless potential and power of the 4 upper chakras.
This beautiful set designed by Adri Kyser is handmade in Bali with:
High quality Rudraksha Seeds
22k Gold plated spacer beads
Gemstones:
Crystal
Green & Blue Agate
Lavender Oval
Click Here for detailed information about each gemstone
Rudraksha Seed: Hand selected, high quality Rudraksha seeds from Indonesia. The beads we use are grown on sustainable plantations in Indonesia. We use first quality untumbled beads. All beads are authentic, sorted and hand checked for the utmost quality.
The power of our beads is tested in order to choose the highest vibration. All our malas are made to the specific spiritual number of beads (108 beads plus the Guru bead)
Available for individual purchase
OPTIONAL
Recommended Essential Oils to use with this Mala: suggested to enhance or call a particular energy/feeling.
Heart Chakra:

Breathe Oil Blend: supports ability to fully breathe in life or Forgive Oil Blend: let go of the past.

Throat Chakra:

Whisper Oil Blend to create the ability to express inner voice and speak your truth.

Third Eye Center Chakra:

Roman Chamomile Oil (align with spiritual purpose) or Serenity Oil Blend to create stillness and focus.

Crown Chakra

:

Peace Blend - This unique blend of oils invites you to connect with your true source and trust in divine goodness and grace.
As a daily ritual, rub a few drops of the essential oil on a few of the rudraksha beads in order to help you remember your intention throughout the day.
You can buy any of these oils in my retail essential oils website. Click here to shop for the best essential oils on the market.
What Students are Saying…
Amy
Tu Ahn
Elysia
Emily
Ann
Helena
Stevi
Mariela
Jessica
Susan
Amazon Reviews